Live Webinar And Migration Demo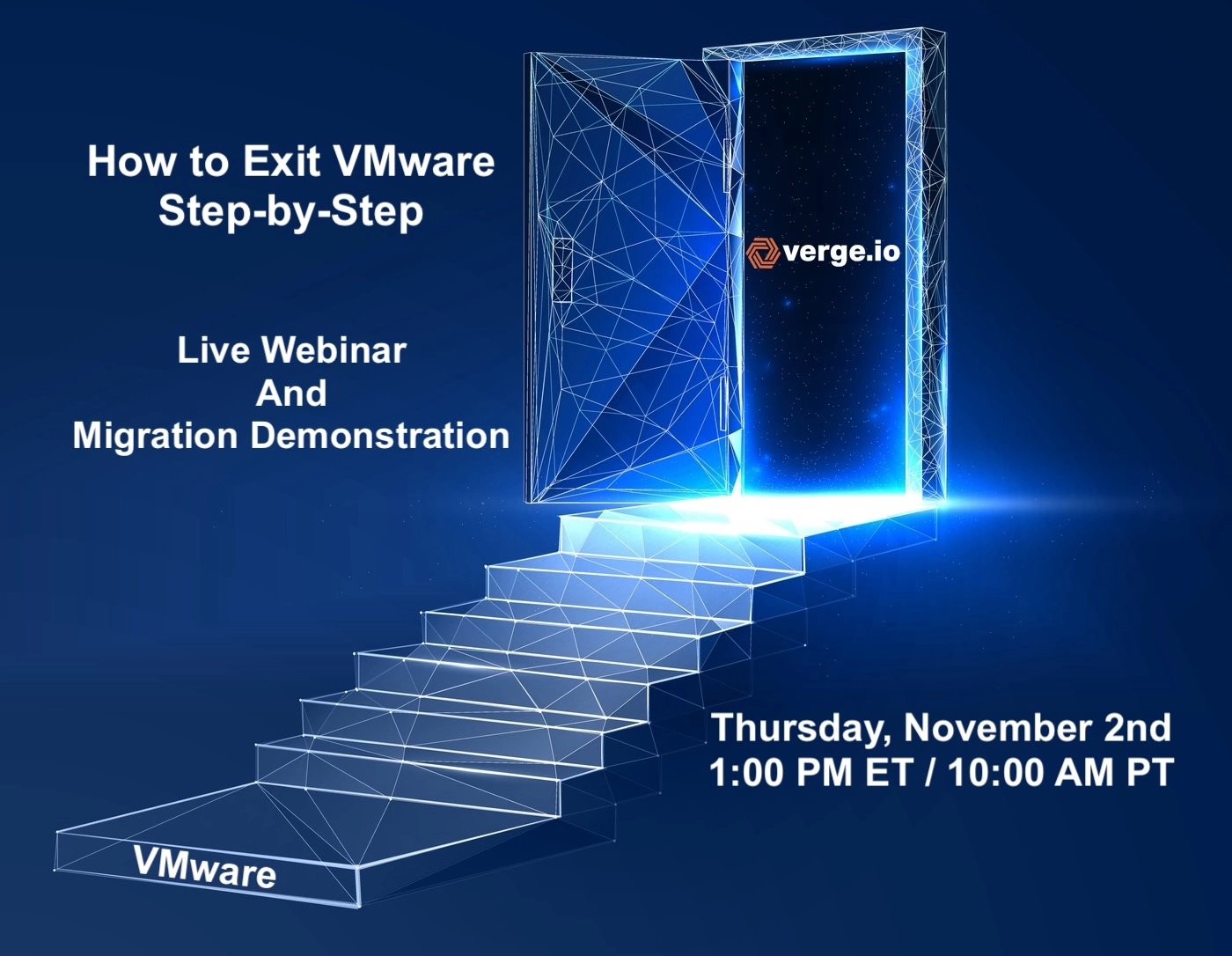 As the Broadcom acquisition finalizes, their customers are considering a VMware Exit. While lowering costs and improving features are a critical part of that consideration, developing a sensible exit strategy is the most critical requirement next step.
Join us for our live webinar, where we will take you step-by-step through developing an exit strategy that makes sense. 
Get answers to the top 5 migration questions:
What triggers should set a VMware Exit into motion?
What should I look for in a VMware alternative?
Should I buy new servers or use my existing servers?
What should I do about networking, storage, and backups?
VMware is infrastructure. Where should I start?
After the discussion, we will show you a live VMware to VergeOS migration and demonstrate examples of the first use cases. Register now, and we will send you a copy of our "Top Concerns of VMware Customers" survey today.
Register for the Webinar and the Report
Upon successful registration, you will receive a confirmation email containing the webinar link and additional details. You will also receive a copy of the survey report. To ensure the delivery of both the invite and the report to your inbox, please add no-reply@zoom.us and our domain, @verge.io, to your contacts or cleared senders list.
• Gain Insight: Learn how to transition to a new platform non-disruptively and without risk.
• Be Prepared: Learn how to prepare for unexpected changes to VMware's pricing, support, and development strategies.
• Interact and Engage: Participate in Q&A sessions and interact with industry experts and peers.
• See: Watch a live migration of an existing VMware Environment
George Crump: before joining VergeIO, he was an IT Analyst for 15 years and spent five years leading TechTarget's SearchStorage and SearchDisasterRecovery workshops, training IT professionals worldwide to develop fully functioning disaster recovery plans.
Aaron Reid is VergeIO's SE Director for the US and APAC. Before joining VergeIO, he was a Senior Systems Engineer for Morpheus Data, a multi-cloud management platform. He has over 25 years of experience designing storage solutions to support virtual infrastructures.