Replace VMware with Ultraconverged Infrastructure Software
With One Software License
VergeIO virtualizes the components you need to run Windows or Linux workloads.
It pools compute, network,  storage, and GPUs from bare metal servers.
Use this global resource pool to create multi-tenant nested virtual data centers or support disparate workloads with performance integrity.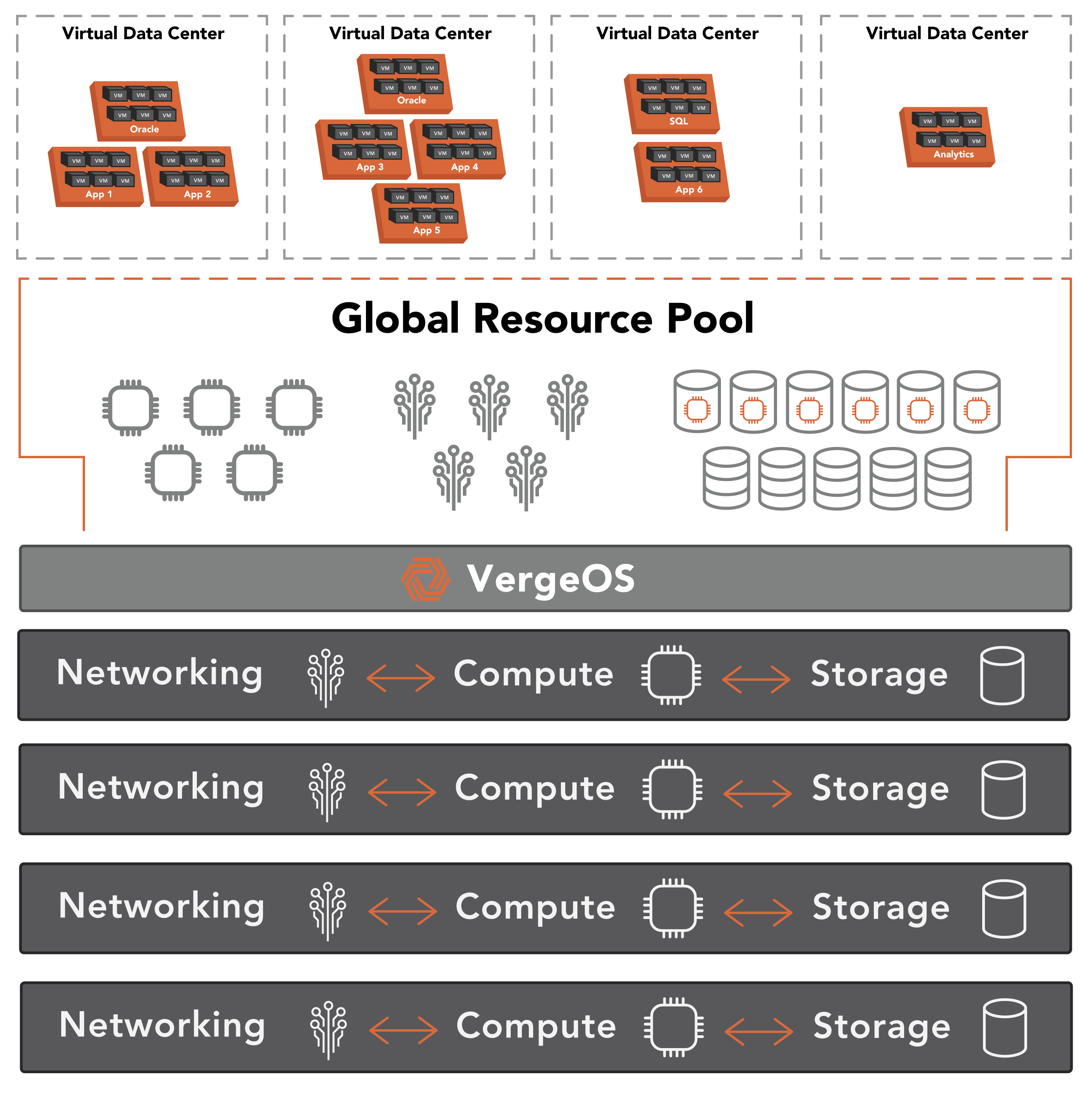 Compute
VergeIO has a built-in hypervisor based on QEMU/KVM that supports both Linux and Windows guests. Our hypervisor provides bare metal-like compute performance to your virtual machines and virtual data centers. To learn more,
click here
.
Storage
Our virtual SAN provides scale out architecture for massive data stores and NAS volumes. Using blockchain-like technology, your storage is encrypted, ultra-secure, and only increases when unique data is written, regardless of whether you clone a single VM or 100. To learn more,
click here
.
Network
VergeIO includes a software-based delivery of tools and management for the full network management stack. Each network includes an integrated firewall and common network services. To learn more,
click here
.
Nested Multi-Tenancy
VergeIO increases IT agility. Instantly create, move, scale, clone entire nested multi-tenant virtual data centers.
Create independent, secure, nested virtual data centers. Each virtual data center can have its own compliance standards or can be cloned from a template to assure consistent compliance.  Each tenant virtual data center is containerized and isolated so it can be moved from one VergeIO  platform to another. Use tenancy to manage compliance, selling through channel or charge back needs. To learn more, click here.
Request A Test Drive
Nothing like seeing it to believe it.
Sign up  for a 14 day Test Drive to experience  how VergeIO can help you reduce costs, improve agility and performance for your workloads. We can also arrange for a POC on your gear at your site.