Simplify Your Server Room With VergeOS
If you are an IT professional for a medium-sized business, you are facing the same challenges in your server room as large enterprises deal with in their data centers. However, the size of your IT team, often a team of one, makes resolving these server room challenges more problematic.
The mid-range data center team needs to manage:
The storage infrastructure

The network infrastructure

The data protection process

Application availability on a shoestring budget
Mid-range data center IT teams need to be efficient, and so do their server rooms.  The answer is to consolidate these stacks, infrastructures, and processes into ONE data center operating system. One of anything is always easier to manage than four, and VergeIO's VergeOS does just that. It is an Ultraconverged Infrastructure (UCI) that consolidates the entire server room onto a single data center operating system (DCOS).
Simplified IT Operations
Go home before the sun goes down or manage everything from home
Integrate backup and ransomware-proof
Sleep through the night
Maximum performance and capacity from mixed midrange servers
Lowers IT costs, eliminate upgrades
Better than HCI, SAN, or NAS
VergeOS is simpler to operate traditional three-tier approaches like a SAN or a NAS and out scales and outperforms legacy HCI solutions like those from Nutanix or VMware with vSAN. Replace your SAN or NAS with UCI. VergeOS is ONE integrated software solution that eliminates a half dozen or more products in your environment.
A Great First Step to Shared Infrastructure
If you are looking for shared storage to improve application and data availability, VergeIO is the way to go. VergeOS enables you to start small and take the first step to shared infrastructure. A two-node solution can run dozens of virtual machines and provide complete high availability and integrated data protection.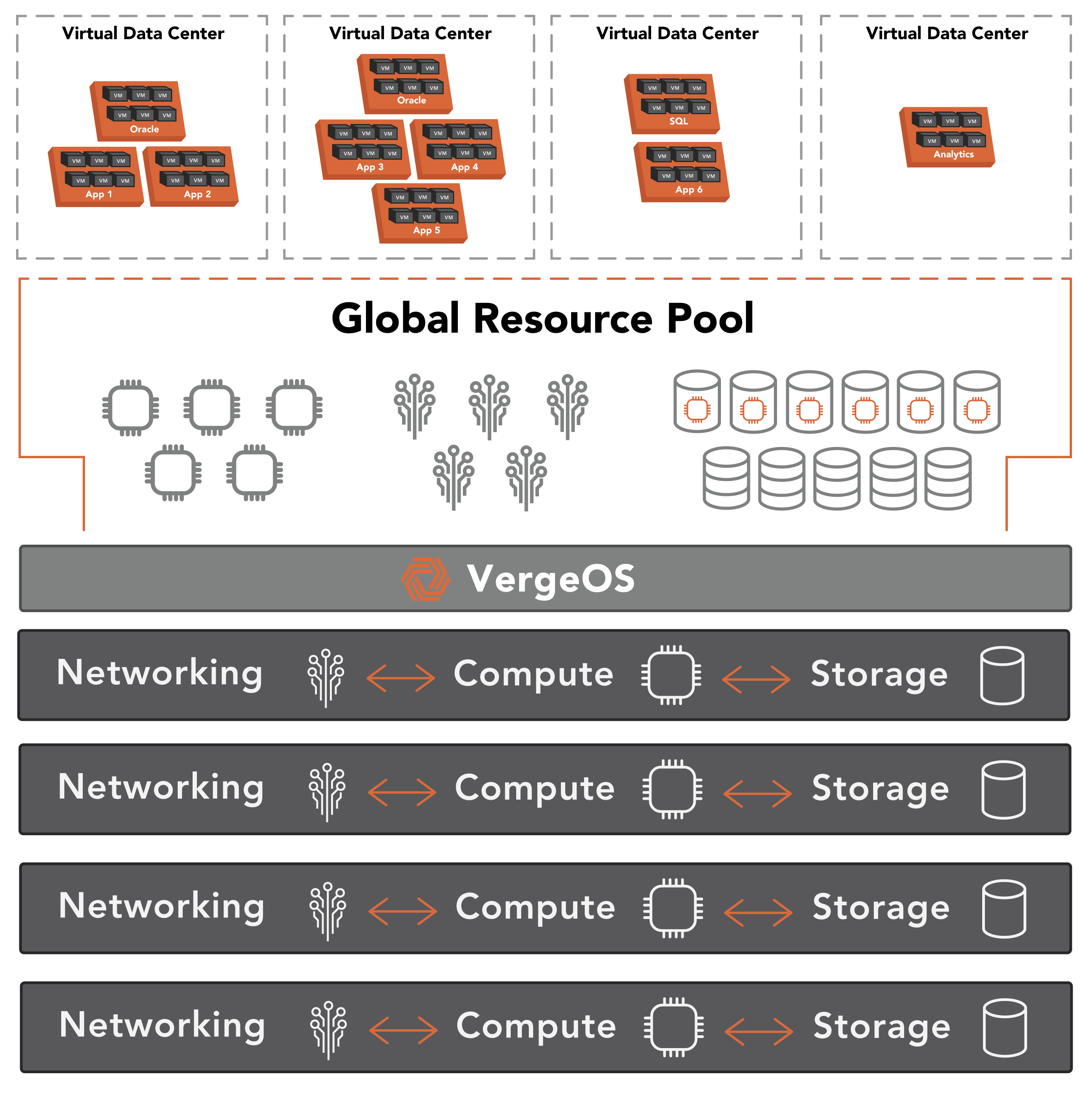 The Power to Scale
Your business will grow, and VergeIO can grow with it. You can add more capacity and computing power just by adding nodes. You can scale these resources in unison like traditional hyperconverged infrastructure (HCI), or you can independently scale just the resources you need:
The mid-range data center team needs to manage:
Add capacity-centric nodes with massive amounts of storage.

Need more processing power?

Add compute nodes with higher-end processors or even GPUs.

Need workload-specific QoS? 

Create a virtual data center and dedicate specific resources within VergeOS to it.