VergeOS — Ultraconverged Infrastructure
Reduce Costs
VergeOS is an ultraconverged infrastructure (UCI) solution that rotates the traditional IT stack and integrates virtualization, storage, and networking into a single data center operating system. It runs on your existing hardware, eliminating an additional hardware purchase. Verge provides robust storage and networking software, eliminating the need for separate SAN/NAS or proprietary networking hardware.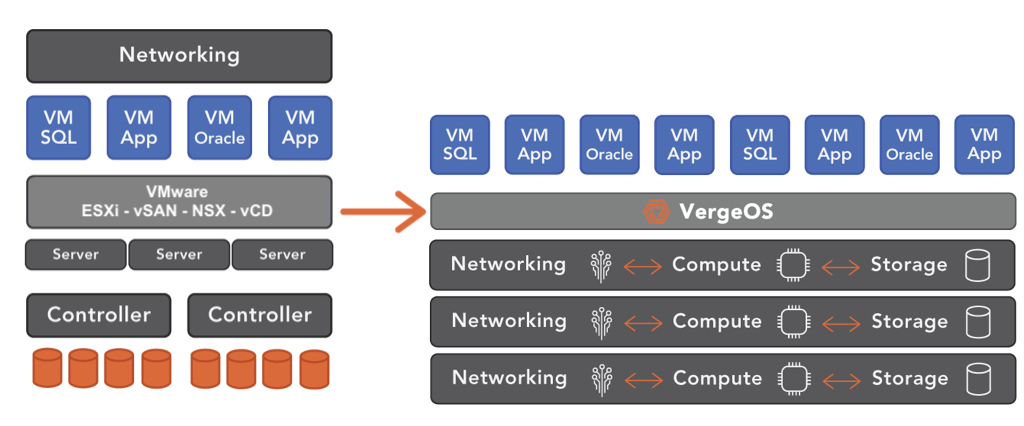 Node Based Pricing - Stop Counting Cores, RAM and Capacity!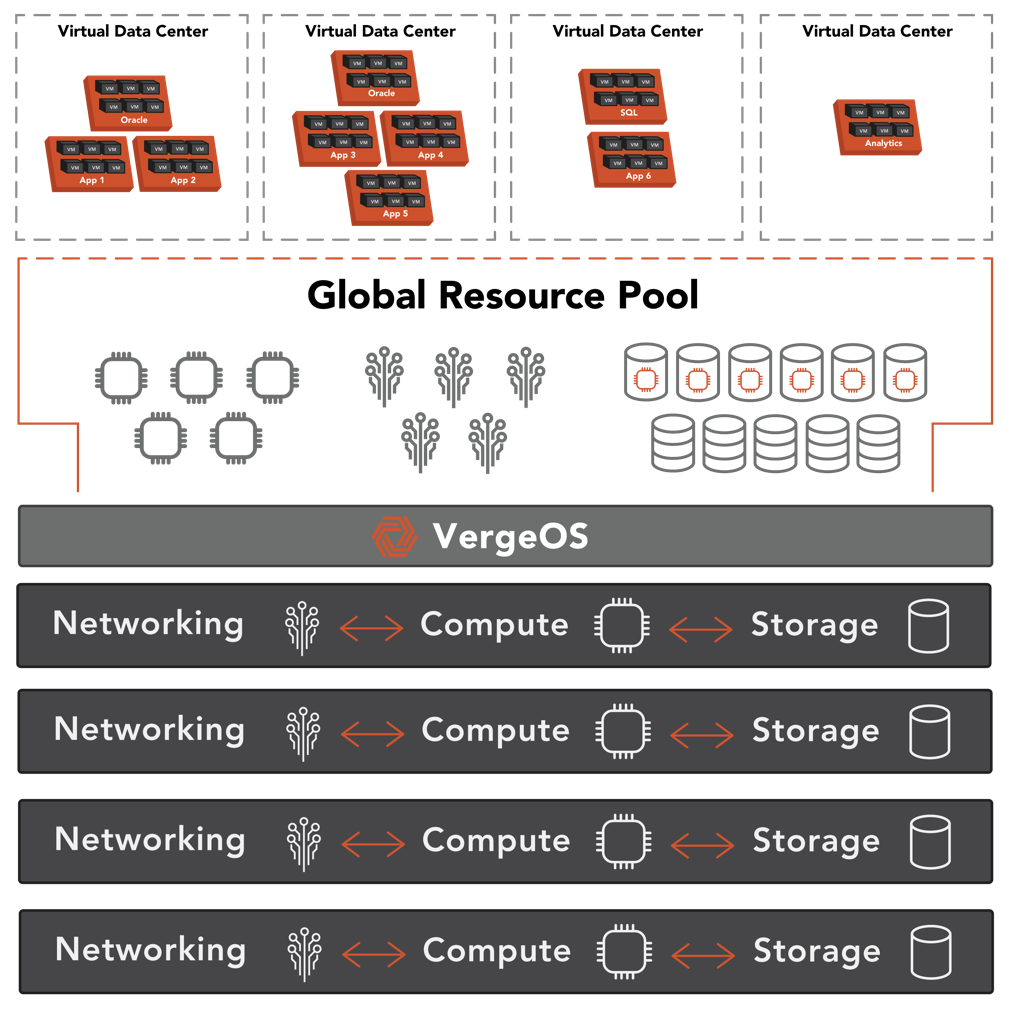 Improve Performance
VergeOS integrates an optimized hypervisor, storage, and networking software, all working together. Its efficiency enables greater virtual machine (VM) density. Consolidate all, even formerly bare metal, workloads using existing hardware, further reducing costs. Our virtual data center technology ensures workload performance integrity by isolating specific nodes to specific applications.
---
Schedule a Technical Whiteboard session to learn all about why the VergeIO Architecture is superior and more cost-effective than VMware
Unprecedented Scale
VergeOS can start as small as one node and scale to hundreds. VergeOS' optimized networking stack ensures the seamless addition of each new node and linear performance improvements.  Nodes can also be of different types for maximum flexibility and platform longevity.
IT Planners can mix any combination of:
Standard Nodes (Intel processors and SAS flash)
Performance Nodes (AMD or Intel processors and NVMe flash)
Capacity Nodes (low-end processors and hard disk drives)
Research Nodes (Nvidia GPUs and NVMe flash)
Subscribe to our Digital Learning Guide for a step-by-step tutorial on how to create a VMware Exit Strategy.
Improve Data Efficiency and Resiliency
VergeOS provides integrated global inline deduplication, unlimited Immutable snapshots, and WAN-efficient replication. Instead of building a separate storage stack, UCI enables you to purchase off-the-shelf media and collapse the stack into a single converged infrastructure that dramatically reduces costs.
Unlike HCI, The VergeOS storage services do not run within a virtual machine. Instead, they are integrated with networking and the hypervisor for maximum performance and flexibility.
Simplify Operations
With VMware, you must manage networking and storage independently or buy expensive, unintegrated vSAN and NSX. Also, the inefficiency of the ESXi means you have to overbuy processing and storage performance plus silo off some workloads onto bare metal servers. As a result, your IT team is juggling up to a dozen different software applications to meet user demands.
VergeOS is a data center operating system.
A Data Center OS Delivers
All data center services in one software solution.
More rapid and accurate provisioning.
Elimination of patch "Tuesdays."
IT spends less time fine-tuning performance.
Drastic reduction in time managing the data protection process
VergeOS will eliminate time spent managing infrastructure by 50% compared to VMware.
Start with Easy Migration with IOmigrate
Migration to VergeOS from VMware is seamless with IOmigrate. VergeOS leverages VMware's change block tracking technology to make a real-time copy of your virtual machines. You can even use VergeOS as a VMware DR target until you can bring it into production. It eliminates products like Zerto and reduces DR costs by 60%.
Quick Learning Curve
Seamless VM Migration
Use existing hardware
Watch a demo of our easily you can migrate VMware Virtual Machines into VMware.